Hello from the chilly and wet pre-Pyrenees!
I'm writing this post sitting next to our heating, on a Sunday morning (note from future Jochem: and I continued writing in the afternoon 🙂 ). It's pretty cold outside actually, for May. About 7 degrees Celsius when I went out to walk Juna after waking up. Just two days ago, there was some new snow on the mountain peaks surrounding our campsite. Brrr!
Apparently, May is also the wettest month in this area, and it shows: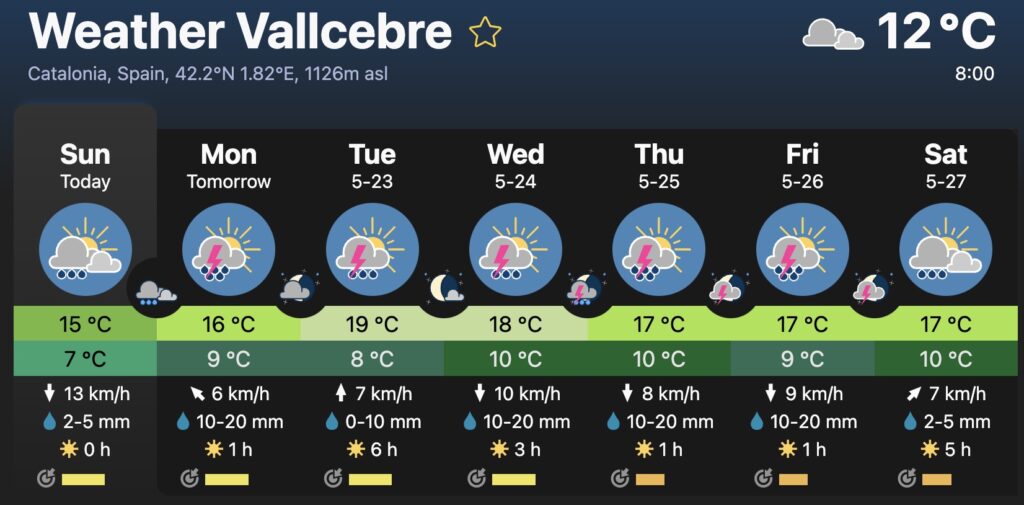 So yes, if you are one of our Dutch readers you might have thought, "You are in Spain, the land of eternal sunshine!". No way, Jose! But at least it keeps the valley green and beautiful.
Anyways, that's enough about my weather obsession today. What have we been up to these past three weeks?
The first house viewing
Good news: we – finally – managed to do our first house viewing with a real estate agent!
Well… Alba doesn't want me to say this, so probably she also doesn't want me writing this in our blog, but let's just put "house" in between quotation marks. So, we did a "house" viewing.
Okay, that's not really fair. Let me show you a photo of the main building on this terrain:
Ah yeah, that looks much better, right? Quite beautiful, actually. But then, the other side…
Why am I showing you these pictures? Several reasons.
First, because it is our first viewing. It's a big step for us! It's exciting to start thinking about all the different possibilities.
That's the second reason. It makes us excited and scared. We like the place in general and think it has potential. We also recognise that the state that all three buildings are in will be an incredible time and money sink for us to renovate. Which leads me to this next point…
What if your dreams come true? And what if they don't?
That's where we are right now. Viewing this place makes us think. What if we would be able to fix this up? And what if we would… Would we actually like it in that case? Would we like the place, the area, the people, the work that comes with maintaining it and our business?
Then again, we didn't start this adventure because we wanted to play it safe. So there's that. But that might just be the sunk-cost fallacy talking; the misconception that you should continue on a certain path because of time/money/effort previously invested. And that makes us doubt again. Do we WANT something like this? Can we DO something like this? No matter how many numbers we crunch, we might never really know the answer until we try.
Not to say that we are buying or investing in this particular house, sorry, "house" ;-), but we do believe it's a wise idea to explore the option. So, if we get anything out of the viewing it is that it makes us think about what we can do and want to do and it makes us work on our business plan harder than ever. Furthermore, it's an opportunity to learn how to take steps in this area such as finding a building architect to get a quote for certain repairs and talking to local authorities about business permits.
You can probably hear my brain grinding away all the way from wherever you might be reading this!
New horizons
Ah, but you didn't think this was the only bit of news, right?
We had some amazing times with family and friends. We visited Tamariu (on the coast) and Andorra. We did some beautiful hikes. I will start new (remote) work soon that I'm very excited about (more about that in a later post).
New plans, new dreams, new ideas… One thing we can say for sure is that we are not sitting still here!
Though we are busy and I (Jochem) will be even busier soon, I will try to write a blog post again soon(ish). Until then, enjoy these pictures from the last few weeks: